We do this together or not at all.


It has been proposed that this page be merged with Pirate Scimitars and Pirate Scimitar, under the article: Pirate Scimitar. Discussion to this effect can be held on the former article's talk page.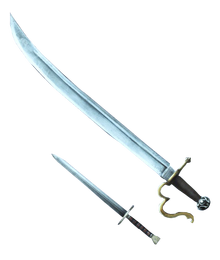 The Pirate Scimitar was a sword obtainable by Shay Cormac during the 18th century. It could be purchased from any general store in New York, the River Valley, or the North Atlantic.
Weapon statistics
| | | | | |
| --- | --- | --- | --- | --- |
| Speed | Combo | Damage | Cost | Availability |
| 2 | 2 | 1 | £1,200 | Sequence 1 |
References