This article is about the ship Piraeus. You may be looking for the Port of Piraeus.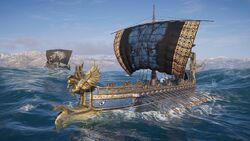 "The Athenian ship Piraeus keeps raiding Spartan allies and rampaging their coastline. Someone needs to put an end to this, or many cities will succumb from attrition."
―Description of the ship on the message board
The Piraeus was a formerly Athenian trireme whose crew had turned to piracy by the time of the Peloponnesian War.
History
Named after the main port of Athens, the Piraeus was originally part of the Athenian Navy. However, her crew went rogue, and while they no longer followed the orders of their Athenian superiors, they harassed and attacked Athens' enemies, namely the Spartans.[1]
Between 429 and 422 BCE the Piraeus was sought out and destroyed, along with its pirate companions, by the Adrestia commanded by the Spartan misthios Kassandra. In the aftermath, Kassandra claimed the finery of the Piraeus for her own.[1]
Gallery
Appearances
References
Community content is available under
CC-BY-SA
unless otherwise noted.