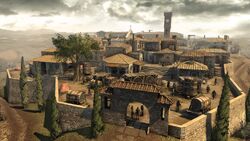 Pienza is an Italian comune, located within the Val d'Orcia in the province of Siena. Formerly known as Corsignano, Pienza is a Tuscan village where Enea Silvio de Piccolomini, later Pius II, was born.
History
Renaissance
A year after his election in 1459, Pius II raised his native town to city status and Episcopal residence, under the new name "Pienza", derived from Pius. He undertook an extensive program, in which he asked the architect Bernardo Rossellino to make Pienza a model city of the Renaissance. However, his death in 1464 brought a premature end to his operations, though he did have time to build both a papal palace and a cathedral.
Modern times
In 2012, Pienza was used as a virtual map in the Animi Training Program, included after a system update for the first stage, and was later merged alongside Mont Saint-Michel in a subsequent addition.
Set upon rolling hills of farmland, Pienza was depicted as cozy community that featured many hidden streets and passageways. Despite its rather small size, the village did feature some impressive architecture, particularly around the plaza. The town hall, or Palazzo Comunale was easily recognizable from afar, thanks to its large bell tower. Other notable landmarks included the other Palazzi and the Duomo, which had a secret underground entrance.
Pienza, like most of the simulated locations in the first and second stage, had two aesthetic variations. As such, it could be utilized during the day, with looming clouds and the occasional flash of lightning, or the night.
Gallery
References
Community content is available under
CC-BY-SA
unless otherwise noted.