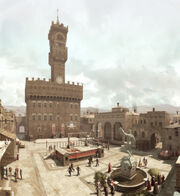 The Piazza della Signoria (English: The Square of the Lords) is a city square in central Florence, which stands adjacent to the imposing Palazzo della Signoria.
As a popular place for executions during the Renaissance, three members of the House of Auditore – Giovanni, Federico and Petruccio – were counted amongst its numbers in 1476, as they were silenced in part of the Templar plot to seize the city; betrayed by Uberto Alberti, a former friend of the noble family.[1] Later, in 1498, the mob execution of Girolamo Savonarola also took place in the plaza.[2] Around 1506, Lo Sparviero saved Demetrio il Silente, a former weapon-smith serves for Cesare Borgia, before his execution.[3]
Gallery
Appearances
References
Community content is available under
CC-BY-SA
unless otherwise noted.