Ezio, my friend! How may I be of service?


This article is in desperate need of a revamp. Please improve it in any way necessary in order for it to achieve a higher standard of quality in accordance with our Manual of Style.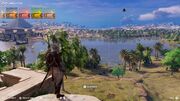 Photo Mode is a game-mode first introduced in Assassin's Creed: Origins, allowing players to capture shots of beautiful views or interesting moments in-game in quality pictures without the user interface in the way.
The mode is enabled per default and is activated by pressing F3 on keyboard or L3 + R3 simultaneously on a controller. Photo Mode can be toggled on and off from Settings > Gameplay.
When the mode is active, the camera can be moved around freely and zoom in and out. The mode also comes with with 17 different filters to make shots even more interesting.
A selection of all photos players take in photo mode will be displayed on the world map in-game. The amount of pictures shown depends on a players zoom level - the further the player is zoomed in, the more photos they will see. The selection will be refreshed every half an hour and different photos will be shown. If players do not want to see photos by others or any photos at all, there is the option to set it to display only the players' own or no photos by using the filters on the world map.
If there is a specific picture a player does not want to see, it can be hidden. A picture once hidden will never show up in the game again. Players can also delete their own photos.
Shots will be saved locally on PC and Playstation 4. If on Xbox One, photos will be stored on the online storage. A copy of any photos will be uploaded to the Ubisoft servers if you are online.
The mode returned in Assassin's Creed: Odyssey, now with the option to tilt the camera.
Appearances
References
Photo Mode in Assassin's Creed: Origins - Ubisoft Support Ubisoft. Accessed 30 July 2018.
Community content is available under
CC-BY-SA
unless otherwise noted.