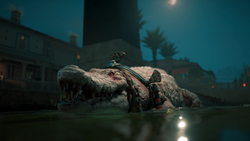 Petsuchos was an albino crocodile worshipped in the city of Krokodilopolis, Egypt during the reign of Ptolemy XIII.
Biography
Perceived as the material manifestation of the crocodile god Sobek, Petsuchos lived in the Temple of Sobek north of the city, where it was fed by the priests and considered the main attraction in the temple.[1]
Sometime prior to 48 BCE, the High Priest Sehetep sought to increase offerings to the temple and plotted with an Egyptian poisoner, Melina the Hibiscus, to create a non-lethal poison that was to be administered to the temple crocodiles, especially Petsuchos.[2]
Thanks to the poison, Petsuchos began to bleed from his eyes and became more agitated, leading many followers to believe Sobek was displeased with them. Sehetep's plan worked and the number of offerings given to the temple spiked, increasing Sehetep's own wealth as well. Eventually, the Medjay Bayek of Siwa discovered the source of the sickness and eliminated Melina and subsequently Sehetep, allowing Petsuchos to recover.[2]
Gallery
Appearances
References
Community content is available under
CC-BY-SA
unless otherwise noted.