Where are the paintings?


This article is in need of more images and/or better quality pictures in order to achieve a higher status. You can help the Assassin's Creed Wiki by uploading better images on this page.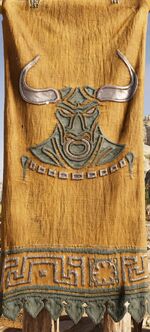 Pephka is an arid region of the island of Krete in Greece upon which was situated the city of Lato.[1]
In the 5th century BCE, the area was associated with pirates, smugglers, con artists, and other walks of criminal life. By the time of the Peloponnesian War it had become a locale gripped in the myth of the Minotaur with Lato serving as a shrine to the beast. Despite Pephka's unsavory reputation, this ultimately served to attract tourism which fueled its economy.[1]
Regions
Pephka was made up of three smaller regions:
Trivia
The emblem of Pephka is the stylized head of the Minotaur.
At some point during development, Pephka's emblem was a rooster. Though otherwise replaced by the stylized head of the Minotaur, the rooster emblem is visible when visiting the message board of Pephka.
Gallery
Appearances
References
Community content is available under
CC-BY-SA
unless otherwise noted.