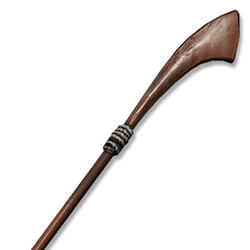 A Peasant's Scepter was a robust scepter typically used by peasants in Egypt during the Ptolemaic dynasty.
Description
Not a true scepter per se, the Peasant's Scepter was little more than a simple stick with one end enlarged in the shape of a flattened gunstock that could effectively be used as a club. The staff was wrapped in leather cords and could be adapted for as a rudimentary weapon for self-defense. Because of the thin profile of the "stock", the staff was actually sharp enough to inflict minor cuts.
History
As its name suggests, Peasant's Scepters were commonly carved by Egyptian farmers living in the countryside in the pharaohic days. Although the staves were not powerful weapons, they provided some form of protection for individuals to poor to afford swords and spears. The Siwan Scepter was a particular Peasant's Scepter that was crafted in the remote village of Siwa.
Weapon statistics
| Rarity | Quality (Max Level 55) | Damage (Max Level 55) | Attributes | Availability |
| --- | --- | --- | --- | --- |
| Common | 114 | 363 | Combo Multiplier II | Blacksmith, Loot |
Appearances
References
Community content is available under
CC-BY-SA
unless otherwise noted.