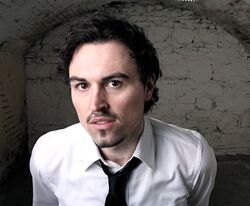 Paul Roger Amos (born 6 March 1975) is a Welsh actor and voice actor based in Ontario, Canada. He is best known for his role in the television series Lost Girl, in which he plays Vex.
Amos voiced and provided the motion capture for Jacob Frye, one of the main protagonists of Assassin's Creed: Syndicate.
Assassin's Creed works
Assassin's Creed: Syndicate (2015) - Jacob Frye
Trivia
In between voice acting sessions, Paul and Victoria Atkin were known to ad-lib songs and other comical scenarios, one of which was referred to as "Assassin's Creed: Speed Dating".[1]
At San Diego Comic Con 2015, Paul ran the Assassin's Creed obstacle course, during which he pulled a muscle in his leg. However, the first attempt had not actually been timed, forcing him to do the course again. Despite the leg injury, Paul managed to set the course record at 36.1 seconds.[2]
References
External links
Community content is available under
CC-BY-SA
unless otherwise noted.