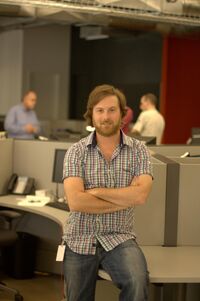 Patrice Désilets
is a French Canadian game designer best known for his work as creative director on
Ubisoft
's
Assassin's Creed
and
Assassin's Creed II
.
Biography
Born in 1974 at Saint-Jean-sur-Richelieu, Quebec, Patrice Désilets is the son of Jacques Désilets, mathematician and director of CEGEP, and Luce de Bellefeuille, Director General of the Secretariat for International Adoption. At the age of five, Young Patrice already discovered the world of computers using the computer Apple 2 of his father.
He enrolled at Collège Édouard-Montpetit, where he practiced improvisation and theater, disciplines he takes as a reference for video games today. He then studied at Université de Montréal and graduated in 1996. Shortly after, Ubisoft implanted in Montreal, and Patrice Désilets joined the company July 2, 1997. Patrice currently lives in Montréal with Emelie Garneau and their two daughters.
A book he read during his studies at Édouard-Montpetit about secret societies of the Middle Age inspired him for Assassin's Creed.
Issue
In May 2010, Patrice left Ubisoft, to get a "creative break from the industry".[1] Now he works in THQ Inc and has announced that he's starting development on a new game in summer of 2011. Patrice sent the following letter to Kotaku in October 2010, expaining his departure from Ubisoft:[2]
Montréal, October 2010
Hello everyone,
As you may know, last May, I made the difficult decision to leave Ubisoft after 13 incredible years. I felt that it was the right time for me to pursue new opputunities as well as enjoy life outside the industry. Since then, a lot of speculation and rumors grew as to where the next chapter of my career would bring me.
Today, I am happy to share with you my decision to join forces with THQ. Under my own label and team, which has yet to be created, I will be making my next few games within THQ's Montreal-based studios.
But...
I am very eager to start working on new games, but for various reasons and mostly out of respect for those who gave me my first chance in the industry, I will not be working on any projects until Summer of 2011.
Now I will go back to my obliged creative hibernation and enjoy spending time with my family... I can't wait to see you all at E3 2011 where I will be revealing a lot more. Until then, I hope you all buy and enjoy AC: Brotherhood and Homefront:) I know I will.
Thank you, see you soon.
Patrice Désilets A.K.A "the beard"
Return to Ubisoft
Since the decline and dissolving of video game publisher THQ, much speculation was raised regarding the future of their studio based in Montreal, whom Patrice worked for. Officially, as of January 23rd 2013, it was announced that Ubisoft had purchased the THQ studio based in Montreal.[3]
Games
References
Community content is available under
CC-BY-SA
unless otherwise noted.