GTA: The Criminal Enterprises - The Loop
Play Sound
Patching the Leak was a virtual representation of one of Ezio Auditore's genetic memories, relived by Desmond Miles in 2012 through the Animus 2.01.
Description
Ezio Auditore arrived at La Volpe's inn, where they discussed the latter's suspicion over the possibility of Niccolò Machiavelli being a traitor. After this, they helped a young thief fight against a group of guards that were attacking him. Once the young thief was rescued, they rode to find and aid their other spies. Whilst doing so, they learned of a plot to kill Pietro Rossi.
Dialogue
Ezio arrived at La Volpe Addormentata.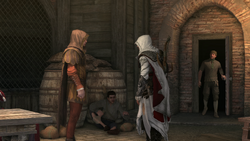 La Volpe: Buongiorno (Hello), Ezio.
Ezio: It is time to pay a visit to Lucrezia's lover, Pietro.
La Volpe: I have sent my men out to find him.
Ezio: Molto bene. (Very good.)
La Volpe: Ezio. If I may...
Ezio: What is it?
Ezio: Machiavelli? Do you have proof?
La Volpe: No.
Ezio: We must not split apart by mere suspicion.
A thief walked in and interrupted them.
Thief: The Borgia know the location of our spies!
La Volpe: Who told them?
Thief: Maestro (Master) Machiavelli asked about our search for Pietro earlier today.
La Volpe: Ezio?
Ezio walked out of the inn to find a thief being attacked by the Borgia guards. He made his stand along with La Volpe and other thieves infront of the inn.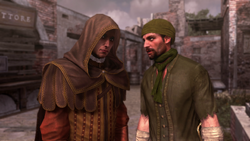 After killing all the Borgia guards, Ezio and La Volpe rode to find the remainder of their spies.
Ezio: I still do not believe Machiavelli has turned traitor.
La Volpe: First the Villa attack, then the Castello and now this. He is behind it all.
They reached their destination only to find most of their men dead and the Borgia guards attacking the last one of the survivors. Ezio and La Volpe succeeded in protecting him.
La Volpe: What were you able to find out?
Ezio and La Volpe moved on to find the next group of their spies.
La Volpe: Micheletto. The best killer in Roma. No one escapes him.
Ezio: Until tonight. Come on.
La Volpe and Ezio reached Terme di Caracalla, to find another one of their spies in trouble.
La Volpe: Did you uncover information about Pietro?
Spy: The man is an actor and he is performing in a play stariotte (tonight).
Ezio and Volpe moved on to find the last spy.
La Volpe: What did you find out about Pietro?
Spy: He is to be suspended from a cross. Micheletto will come for him with a spear.
Outcome
The spies uncovered the Borgia's plans to kill Pietro.
Gallery
References