GTA: The Criminal Enterprises - The Loop
Play Sound
Party Supplies was a virtual representation of one of Kassandra's genetic memories, relived by Layla Hassan through the Portable Animus HR-8.5.
Description
A hetaera sought the help of a mercenary. Kassandra answered.
Dialogue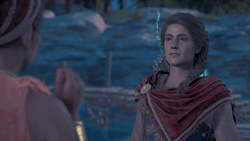 Kassandra noticed a job posted on a message board.
Note:
Strong swimmer needed for an urgent errand. Please come see me.
She sought out the hetaera and addressed her.
Kassandra: I got your message on the board. What's going on?
Woman: A crate of good wine was lost at sea - pirates sank a merchant ship. I need that wine for tonight's banquet.
Kassandra: You can probably still get it back... if you don't mind getting wet.
Woman: Only someone truly brave would wade into those waters now. The pirates are still nearby, and I've heard rumors of a shark spotted close to the port.
Kassandra: So I should kill all the sharks.
(Accept - I'll handle it.)
Kassandra: All right. I'll do it.
Woman: Good. You're doing me a great service.
Kassandra: You can leave everything to me.
Kassandra went out and slew the sharks before returning to the woman.
Woman: You're back. Have you killed them?
Kassandra: I took care of them. Every last one.
Woman: Job well done, mercenary. Here, this is yours.
Kassandra: Happy to help.
Kassandra:
You want me to destroy all the pirate ships.
Woman:
The horizon should be clear of ships once you're done.
(Accept - I'll destroy them.)
Kassandra: All right. I'm in.
Woman: Glad to hear it.
Kassandra: Chaire, stranger.
(Find, destroy, return)
Woman: Did you destroy them all?
Kassandra: It would be hard to piece them back together.
Woman: You've earned your payment, misthios. Here. This is for you.
Kassandra: All in a day's work.
Outcome
Kassandra did as the hetaera asked, and was rewarded for this.
Behind the scenes
The dialogue for timed quests in Assassin's Creed: Odyssey is part scripted, part randomly generated from a pool of generic statements. As such, the wording encountered varies.
All timed quests have two variants, as noted: when given a choice, the desired is always the top one.
Gallery
References
Assassin's Creed: Odyssey memories