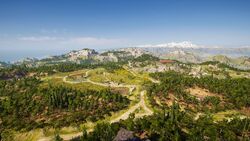 Pan's Cradle was a region of Arkadia, Greece. The main settlement in the region was the capital of Arkadia, Tegea.
During the Peloponnesian War the misthios Kassandra explored the area.[1]
Trivia
The name of the region references the god of wilderness and wild things, Pan. Arkadia was believed to be his homeland.
Appearances
References