"
Packing for Greece
" is a collection of files documented by
Layla Hassan
as she and her
cell
made preparation to search for the
Lost Histories
by
Herodotos
and the
Spear of Leonidas
.
Files
Animus console prototype variant
Accessing extrapolated data reconstruction.
Subject: Descendant of Leonidas
Est. accuracy 76.3%.
VB: Are you comfortable with that rate of accuracy?
LH: We're using centuries-old text to supplement the DNA memory from centuries-old blood. Hopefully the gaps will overlap.
VB: Understood. Berg had a problem with simulations rated below 80%.
LH: Berg has a lot of problems.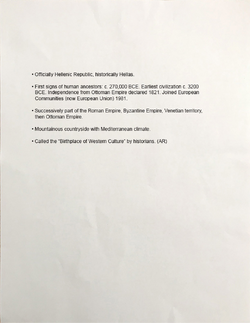 Herodotos and His Work
Herodotos called the "Father of History."
Influential family. Herodotos was himself forced to go into exile in Samos, but then took part in the coup that overthrew Lygdamis.
Studied and wrote history/travel books. Gave public lectures. Gained fame and drachmae.
Greatest work was his History. Relies on interview rather than records (which generally didn't exist anyway). Accuracy disputed, but influence undeniable.
His work is credited with saving a mass of invaluable information on archaic and early classical Greece. His work is methodical and extensive. (AR)
LH: He wrote about Greece and surrounding areas. He traveled the Black Sea, visited the Scythians, and lived in Egypt for months. His books were like travel guides to the ancient world.
AR: True. Though some of his work on non-Greek cultures was... specious.
LH: You mean that there wasn't a tribe of cannibals in India who threw feasts with their deceased friends as both guests of honor and the main course?
AR: I'll say a hard no to that.
LH: Let's hope his "Lost Book" doesn't include that kind of cultural glitch.

AR: From what I've been able to interpret so far, he does mention a group of ancient geniuses who sound suspiciously like the Isu.

LH: His "Lost Book" is supposed to contain the story of a heretofore unknown hero who was a descendant of Leonidas I of Sparta. And we know the Spear of Leonidas is an Isu artifact.
AR: Leave it to the Father of History to connect the dots.
Staff of Hermes Trismegistus
Rumoured to be a powerful and deadly hand-to-hand weapon.
Isu technology, capable of multiple improvements.
Evidence strongly suspect healing abilities. (AR)
LH: Healing or time manipulation? If we're right, this staff can rewrite the rules of physics, including entrophy. And we already know the Isu are capable of interacting with reaity in a way that disregards any normal timeline.
AR: I wouldn't even guess without more information.

Atlantis
"Allegorical" location described by Plato.
Current estimated location: Thera (modern Santorini), Greece.
Previous historical evidence: the Minoan eruption which led to the collapse of that civilization was rumoured to be the source of the Atlantis myth.
Current evidence: Complex and extensive Isu site preserved underwater. (AR)
LH: Time to shift this from estimated to reality.

References
Community content is available under
CC-BY-SA
unless otherwise noted.