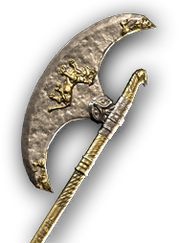 The Ornate Axe was a beautiful battleaxe used in the 5th century BCE Greece. The blade of the axe was graced by an embossed figure of an animal, and the blade's tips also bore decorations.
During the Peloponnesian War, the axe was commonly seen on battlefields as well as in the inventories of blacksmiths.[1]
Weapon statistics
Rarity
DPS (Lvl 99)
Default Engravings
Availability
Common
7113
(Randomised)
Blacksmith, Loot
Rare
7469
Epic
7829
Description
It's almost too beautiful to use. But not quite.
Gallery
Behind the scenes
The Ornate Axe, a weapon in Assassin's Creed: Odyssey, shares the same model as Astarte's Dull Axe and Markos' Gift, other two weapons in the same game. These are both recycled models of Headsplitter, a weapon from Assassin's Creed: Origins.
Appearances
References
Community content is available under
CC-BY-SA
unless otherwise noted.