This article is about the mythological figure. You may be looking for the pankratist.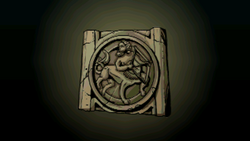 Orion was a Giant and a son of Poseidon in Greek mythology, supposedly born in Boeotia.
Biography
According to mythology, Orion angered the goddess Artemis for seducing her follower Opis. As revenge, the goddess summoned a scorpion which killed Orion. The creature and Orion were subsequently turned into constellations.[1] A variant of this story says the scorpion was instead sent by Artemis' twin brother, Apollo.[2]
After his death, he was allegedly buried in a tomb in the Oropos Heights of Boeotia.[1]
Legacy
During the Peloponnesian War, Orion's tomb was visited by the Spartan misthios Kassandra.[3]
When the zodiac was created, Orion became part of it as Sagittarius.[2]
Behind the scenes
Orion is described as a Giant in Assassin's Creed: Odyssey, but in Assassin's Creed: Pirates, the engraving of him depicts a centaur.
Appearances
References
↑ Assassin's Creed: Odyssey
Community content is available under
CC-BY-SA
unless otherwise noted.