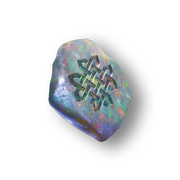 Opal is a semiprecious iridescent rock.
History
In the late 9th century, opals could be found throughout England, and the Thousand Eyes merchant guild as well as their leader Reda used them as a form of currency in trading or rewards for certain contracts.[1] The Viking shieldmaiden Eivor Varinsdottir of the Raven Clan found many of these during her travels and traded them with Reda for equipment.[2]
In 1868, the twins Jacob and Evie Frye used a fire opal to craft the Mirage Gauntlet.[3]
Behind the scenes
Opal is actually a mineraloid, not a mineral.[4]
Appearances
References