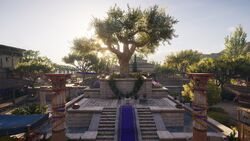 The Olympic Tree, also called Kallistefanos Elea (beautiful crown) and the Olive Tree of Zeus[1], was a large olive tree opposite the Temple of Zeus within the Sanctuary of Olympia in Elis, Greece.
The olive wreaths of the winners of the Olympic Games, kotinos, were made of the branches of the Olympic Tree. The branches were cut by children using a golden sickle and then taken to the Temple of Hera where the Hellanodikai, the judges of the games, made the wreaths.[2]
During the 428 BCE Olympics, the Spartan misthios Kassandra visited the Tree with her friend Barnabas.[2] Kassandra was also later crowned as the winner of the Olympics at the Tree.[3]
Appearances
References
Community content is available under
CC-BY-SA
unless otherwise noted.