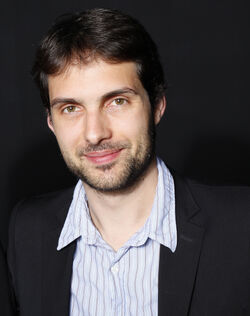 Olivier Derivière (born December 26, 1978) is a French animation, film and video game composer, as well as the co-founder of AMEO Productions, a company that specialises in original scores for video games.
Biography
Encouraged by his music-loving parents, Derivière began studying classical percussion and piano at the age of five. As an avid gamer, he became interested in creating music for games, leading him to meet with fellow enthusiasts at coding parties. When he was fourteen, Derivière launched a demoscene group on Falcon 030 and, together with others, created a full level of a shoot 'em up game.
He continued to pursue further training as a musician, studying composition, harmony, and orchestration at the Conservatory in Nice. Derivière subsequently won a scholarship to study jazz and film scoring at the Berklee College of Music. Following his studies, he began to make connections in the French film industry; one of the first works for which he gained recognition was La Tartine, a musical featuring a singing breakfast. Derivière also wrote instrumental soundtracks to È Pericoloso Sporgersi, Tempora, Cub, The Solitude of the Garbage Man, The Passenger, and At the Back of the Lorry.
At the age of 23, Derivière decided to compose for video games, feeling there were more artistic opportunities there. Thanks to the connections he made during his demoscene days, he was able to compose for the stealth-horror game ObsCure and later its sequel, ObsCure II. In 2008, Derivière came to international attention with his four hour soundtrack to Hydravision's Alone in the Dark.
In June 2010, Derivière formally established the music production company AMEO Productions together with his sister. He also expanded his portfolio with several new projects, including The Fall Trilogy, Heroes of Might and Magic: Kingdoms and Cardboard Castle. Later work includes Remember Me, for which Derivière was awarded the 2013 IFMCA award for Best Original Score for a Video Game or Interactive Media, Freedom Cry and Harold.
Discography
2004
2006
My Little Flufties
Championsheep Rally
2007
Destination Treasure Island
ObsCure II
2008
2009
Knockout Party
Might and Magic Heroes: Kingdoms
2010
2011
2012
2013
2014
2015
Reference
External links
Community content is available under
CC-BY-SA
unless otherwise noted.