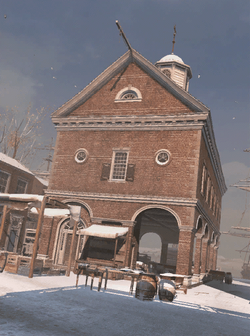 The Old Royal Exchange was a market in New York.
History
This building started as a one story building in 1675 and was the first converted market in New York. It was soon replaced by a two story building in 1752. The first floor was the primary market place, and the second was used more for social events such as concerts or a meeting hall.[1]
When the Revolutionary War ended, this building became the home of the Supreme Court, but only for short time. While the first session began in 1790, the Supreme Court left for Philadelphia in 1791.[1]
Trivia
The Old Royal Exchange is depicted with a standard gable roof while illustrations of the actual building show it to be with a gambrel roof. Also the game's depiction has different windows.
Appearances
References
Community content is available under
CC-BY-SA
unless otherwise noted.