Fire Emblem Warriors: Three Hopes - The Loop
Play Sound
Oh Brother... was a virtual representation of one of Edward Kenway's genetic memories, relived by a research analyst at Abstergo Entertainment through the Animus.
Description
Having sold a map with Assassin names and locations to the Templars, Edward set out to warn one of the targets, the bureau leader Vance Travers.
Dialogue
Edward: Travers?
Vance: What tide brings you? You dress the part of an Assassin, yet I don't know your face.
Edward: Name's Kenway. I'm here to warn you of a threat to your Bureau.
Vance: Yes, I have noticed some suspicious men lurking about. I believe they work for a noted Templar, called Upton. Could you... eliminate them for me?
Edward: Oh, I may be persuaded, for a price. You wouldn't happen to know anything about a Templar key, would you?
Vance: I'm sure you can find it among Upton's men, IF I tell you where they are.
Edward: You've got yourself a deal.
Edward eavesdropped on some suspicious men.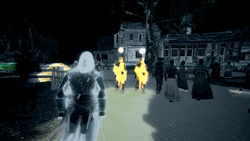 Smuggler 1: He wanted the goods transported to his residence instead.
Smuggler 2: But why? What's he going to do with them?
Smuggler 1: I don't know. Store them? Smuggle them?
Smuggler 2: Smuggle them away from his own smuggling operation?
Smuggler 1: I know it sounds ridiculous, but a job's a job.
Smuggler 2: I suppose you're right. Smuggling from a smuggler.
Smuggler 1: Hey, did you ever think about that word? "Smuggler?" Rather funny, isn't it?
Smuggler 2: Who ever thinks about words?
Smuggler 1: Well, not me, certainly, but say it: "smuggler."
Smuggler 2: Smuggler.
Smuggler 1: Smuggler!
Smuggler 2: You're right. It does have king of a funny ring to it. Smuggler!
Smuggler 1: Wait, mate. Maybe we shouldn't be saying it quite so loud though?
Smuggler 2: On account of it being smuggling?
Smuggler 1: Right.
Smuggler 2: Right.
Smuggler 1: Will the others be waiting for us when we get there?
Smuggler 2: Yes. This should be easy.
Smuggler 1: So we move the goods. Then we go to the inn.
Smuggler 2: Oh, we should be so lucky!
Smuggler 1: Smuggler. Oh, look. There they are. Hello!
Edward located Upton and engaged him in combat.
Upton: Who sent you? Why are you dressed like that, Templar?
Edward: I'm no such thing.
Upton: You're no Assassin. I run the bureau. I'd know if you were one of us.
Edward: That's rich, I've met the leader. You're not him.
Edward prepared to kill Upton.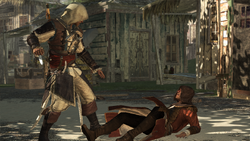 Upton: Stop! I am Upton Travers. Bureau leader.
Edward: What? Is Vance your...
Upton: My blood brother! We work together. And those were not Templars that you killed! They were my workers!
Edward: Don't blame me. Your brother ordered it.
Upton: Does he mean to usurp me?
Edward: I don't know, mate, I'm only after a Templar key.
Upton: A what? Please, I need for you to tell me everything.
Edward: And why should I trust you?
Upton: Meet me at the Bureau. And I will show you.
Edward: Bother.
Outcome
Edward met the Travers brothers, and learned of the feud between the two.
Gallery
References