GTA: The Criminal Enterprises - The Loop
Play Sound
Patience, brothers. Soon we will reveal the secrets of Assassin's Creed: Brotherhood. Is the "Unique Moves" section OOU now or not?.


This article has been identified as being out of date. Please update the article to reflect recent releases and then remove this template once done.
"With his dark uniform, the Officer moves through the shadows stalking his prey. Willing to protect the Templar Order at any cost, he doesn't hesitate to use his Epieu to eliminate troublemakers. And there are a lot on his list..."
―Description of the Officer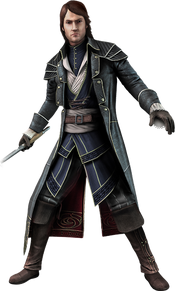 The Officer (harvested from: Teodor Viscardi) was an Animi Avatar used by Abstergo Industries to train the recruits in the first stage of their Animi Training Program. He was available after a system update, and wielded an épieu as his weapon of choice.
Gallery
Appearences
References
Primary stage
Secondary stage
Tertiary stage
Quaternary stage