He who increaseth knowledge, increaseth sorrow.


This article contains spoilers, meaning it has information and facts concerning recent or upcoming releases from the Assassin's Creed series. If you do not want to know about these events, it is recommended to read on with caution, or not at all.

This template should be removed from the article 5 January 2019.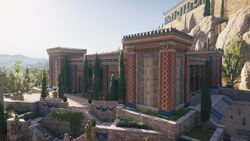 The Odeon of Perikles was the largest building and the first theater to receive a roof located in the city of Athens in Attika, Greece.
Built by the statesman Perikles, the Odeon showed musical performances and was modeled after King Xerxes I's original tent, which had been brought back as plunder.[1]
History
During the Peloponnesian War, the building was visited by the Spartan misthios, Kassandra.[1]
Gallery
Trivia
The columns inside the odeon are based on the columns in Persepolis.
Appearance
Reference