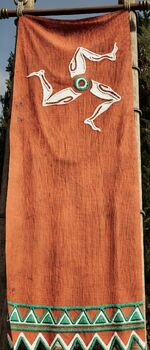 The Obsidian Islands is a name used to refer to the group of Greek islands consisting of Hydrea and Melos, located in the Aegean Sea. The name arose from the islands' volcanic activity and the obsidian glass this produced, which became the islands' main export.[1]
The Obsidian Islands were sometimes called the 'Playground of Ares', due to the violent and explosive nature of the volcanic islands, thought to be akin to the personality of the Greek god of war Ares.[1]
History
During the Peloponnesian War, the islands were under the self-proclaimed protection of Sokos, a member of the Gods of the Aegean Sea branch of the Cult of Kosmos.[2]
Trivia
The emblem of the Obsidian Islands is a triskelion, the name of which means 'three-legged' in Greek.
Gallery
Appearances
References
Community content is available under
CC-BY-SA
unless otherwise noted.