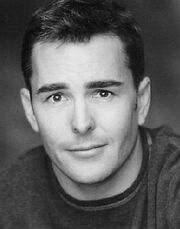 Nolan Ramsey North (born 31 October 1970) is an American voice actor originating from New Haven, Connecticut in the United States. He is married to Jill Murray, a fellow actress from Port Charles, and has two children. He has had a large number of roles in TV shows, video games, and feature animations. 
North has voiced the characters Desmond Miles, Abbas Sofian and Adam in the Assassin's Creed series.
Biography
Career
During North's time at the University of North Carolina, he majored in journalism. After University, North obtained a job working as a reporter in New Jersey, he continued with this for approximately a year until he decided to move on and pursue a career in acting and stand-up comedy in New York City. 
Soon after, North moved to Hollywood where he would receive his first noteworthy appearance in an acting role. He was cast as Dr. Chris Ramsey in the spin-off series, Port Charles, which lasted from 1997 until the show came to a finish in 2003. After the cancelation of Port Charles, North decided to solely work on voice acting for video games and animations, having had experience during his time acting. 
Some of his best-known roles are voicing Deadpool in various media, Nathan Drake in the Uncharted series, David in The Last of Us, the Prince in the 2008 version of Prince of Persia, Kojo "Romeo" Agu and Sgt. John Forge in Halo 3: ODST and Halo Wars respectively, Dr. Richtofen in Call of Duty: World at War and Call of Duty: Black Ops, several key characters in Portal 2, and the Penguin in the Batman: Arkham series.
As well as voicing for video games, he can be heard voice acting in various animated television shows including Teenage Mutant Ninja Turtles, Wolverine and the X-Men, Young Justice and Ben 10. 
North has appeared in several acting roles such as CSI: Miami, Modern Family, NCIS and On The Doll. Although, North was only cast as a minor character. The largest role that defines his recent acting career is playing Peter Hastings in the Teen Choice Award winning American teen drama, Pretty Little Liars.[1]
Assassin's Creed works
External links
Reference