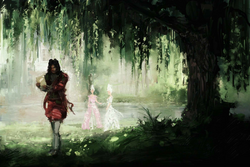 The Kingdom of the Netherlands is a country in Europe, located west of Germany.
History
Breda was the primary residence of King Charles II of England during his exile, between 1651 to 1660.[1]
During the War of Austrian Succession, the French Army laid siege to Bergen op Zoom in 1747. Edward Braddock and Haytham Kenway were among the British troops allied with the Dutch.
When the Dutch and British lost the fortress, a young man asked Braddock if his family could flee the city with them. Haytham consented, but Braddock refused, and the man responded with an insult. Braddock, furious, killed him and his entire family: this appalling act was the first incident that led Haytham to turn against Braddock.[2]
In 2012, following the destruction of the Assassin safehouse in Florence, Harlan Cunningham was advised to travel to the one in Rotterdam.[3]
References
Community content is available under
CC-BY-SA
unless otherwise noted.