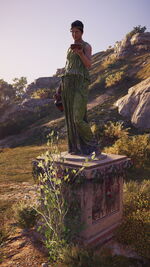 Nemesis is the Greek personification of divine retribution and punishment for excess. She is the goddess who takes rightful vengeance in cases of hubris. Later on she also became the avenger of crime, like murder and other grave cases.
Mythology
She is the sister of the the Moirai, the Keres, the Oneiroi, Eris and Apate. In some tales she's the daughter of Zeus, and in others the child of Erebus and Nyx. [citation needed]
Influence
During the Peloponnesian War, the Spartan misthios Kassandra visited a statue personifying the goddess on the shores of Oropos Heights in Boeotia.[1]
Behind the scenes
The statue used in Assassin's Creed: Odyssey for Nemesis is based on Pietro Bazzanti's 19th century sculpture of the Greek goddess Hebe. The same statue is mostly used for Demeter in the same game, and for Hygieia and Cyrene in Assassin's Creed: Origins.
Appearances
References
Community content is available under
CC-BY-SA
unless otherwise noted.