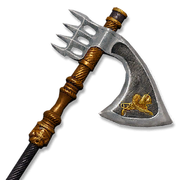 The Nebuchadnezzar's Wrath was a legendary axe said to have belonged to Nebuchadnezzar II, a king of Babylon, and used by him to execute his enemies.
During his hunt for the Order of the Ancients, the Medjay Bayek of Siwa found this weapon in the inventory of Reda.[1]
Weapon Statistics
Rarity
Quality (Max Level 55)
Damage (Max Level 55)
Attributes
Availability
Legendary
Adrenaline on hurt IV
Critical Hit Rate II
Health for Critical
Nomad's Bazaar
Description
The axe used by King Nebuchadnezzar to execute his enemies is now yours to wield.
Behind the scenes
The model of the Nebuchadnezzar's Wrath, a weapon in Assassin's Creed: Origins, was recycled as the model of Spiked Axe, a weapon in Assassin's Creed: Odyssey, and its kind. Nebuchadnezzar's Wrath itself is based on the Luristan bronze spiked axehead.
Appearances
References
Community content is available under
CC-BY-SA
unless otherwise noted.