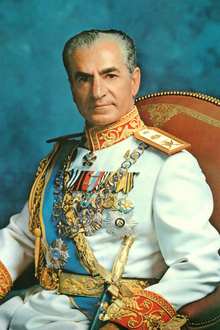 Mohammad Rezā Shāh Pahlavi (25 October 1919 – 27 July 1980), was Shah of Iran after Mohammad Mosaddegh was removed as Prime Minister in a plot orchestrated by Abstergo Industries. He ruled Iran from 16 September 1941 until 11 February 1979, when he was deposed in turn by the Iranian Revolution led by Ruhollah Khomeini. During his reign, he was the second and final monarch of the House of Pahlavi, and was named "Ariamehr" by the Iranian people. As Shah, he protected the interests of the Templars by preventing the attempted nationalization of the Anglo-Iranian Oil Company spearheaded by Mossedegh.
He was a close friend of Richard Nixon, former president of the United States. Rezā Shah died in 1980 in Cairo from blood cancer.
References
Community content is available under
CC-BY-SA
unless otherwise noted.