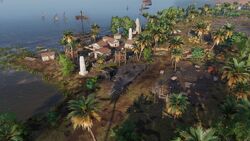 Mithidrates Roman Camp was a Roman military camp situated in the far east corner of Herakleion Nome, Egypt. Initially a farm, it was converted into a camp by the Romans, who held the farmers captive and used them to train their elephants' bloodlust for war.[1]
In 48 BCE, Apollodorus sent one of his agents, Iuseneb, to investigate the farm. Iuseneb discovered the truth, but before he was able to report his findings, he was captured by the soldiers and held captive alongside the farmers. However, he and the farmers were later freed by the Medjay Bayek of Siwa, who had been sent to investigate Iuseneb's disappearance.[1]
Trivia
Appearances
References
Community content is available under
CC-BY-SA
unless otherwise noted.