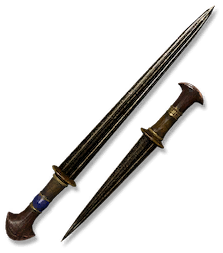 The Mirror Blades were a pair of short blades obtained by the Medjay Bayek of Siwa during the 1st century BCE.
Weapon Statistics
Rarity
Quality (Max Level 55)
Damage (Max Level 55)
Attributes
Availability
Rare
Adrenaline Regeneration I

Combo Multiplier I

Blacksmith, Loot
Description
These two blades bear an unnerving similarity, right down to their corresponding nicks and dents. It's almost as though they share a spiritual link.
Appearances
References