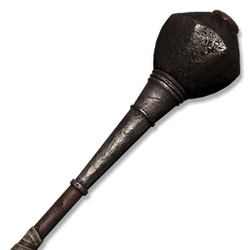 The Minoan Poppy Pin was a mace which originated from the Minoan civilization on the island of Krete. The mace was named for its heritage as well as the similarity of its head to the seedpod of the poppy flower.
By the time of the Ptolemaic dynasty, the mace had made its way to Egypt where it was still as effective of a weapon as it had been millennia before. During his hunt for the Order of the Ancients, the Medjay Bayek of Siwa commonly found this weapon in the inventories of blacksmiths and on bodies and in chests during his travels throughout Egypt.[1]
Weapon Statistics
Rarity
Quality (Max Level 55)
Damage (Max Level 55)
Attributes
Availability
Common
115
535
Adrenaline on Kill I
Blacksmith, Loot
Description
This Cretan mace from the Kaphti kingdom made its way into Egypt to replicate what it did home; breaking skulls.
Behind the scenes
The Minoan Poppy Pin, a weapon in Assassin's Creed: Origins, shares the same model as the commonly found Bronze Bludgeon, another weapon in the same game. The model of these was recycled as the Heavy Mace, a weapon in Assassin's Creed: Odyssey, and its kind.
Appearances
References
Community content is available under
CC-BY-SA
unless otherwise noted.