Minerva, also known as Merva and Mera, was a member of the First Civilization.
Message in the Vault
Minerva appeared as a hologram figure within The Vault, and revealed little of the origin of humanity within her people's history.[1]
Minerva explained how humans came to be, what the Pieces of Eden were for, and why her people no longer control the humans, or even exist at all. She stated the purpose of the vaults built across the planet, and explained of the disaster that Earth once suffered. She referred to Ezio Auditore as the "prophet," and during most of her appearance, she spoke to someone Ezio could not see, thus confusing him. She then clarified that she was not speaking with him, but through him.[1]
Minerva apparently knew that Desmond Miles would one day relive Ezio's memories, as she seemingly addressed the camera (or Desmond's perception of the scene through the Animus) throughout her monologue, and concluded by saying, "the rest is up to you... Desmond," much to his ancestor's confusion. As Ezio tried to ask Minerva who Desmond was, her hologram disappeared, leaving Ezio with all of his questions unanswered.[1]
Dialogue
(After entering The Vault, and walking to the back of the chamber)
Minerva: (to Ezio) Greetings, prophet. It is good you have come. Let us see it. To give thanks.
(Ezio shows the Apple of Eden to Minerva, who 'scans' it)
Minerva: (to Desmond) We must speak.
Ezio: Who are you?
Minerva: (to Ezio) Many names. When I died, it was Minerva. Before that Merva, and Mera. And on and on. The others, too: Juno, who was before called Uni; Jupiter, who was before called Tinia.
Ezio: You are... gods.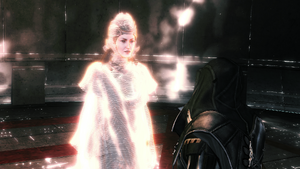 Minerva: (laughs) No. Not gods. We simply came... before. Even when we walked the world, your kind struggled to understand our existence. We were more... advanced in time. Your minds were not yet ready. (turns to camera/Desmond) Still not, maybe never. No matter. You may not comprehend us. But you will comprehend our warning. You must.
Ezio: None of what you are saying makes sense.
Minerva: (to Ezio) Our words are not meant for you.
Ezio: What are you talking about? There is no one else here!
Minerva: Enough! I do not wish to speak with you, but through you. You are the prophet. You've played your part. You anchor him, but please be silent! That we may commune.
Minerva: (to Desmond) Listen. When we were still flesh, and our homes still whole, your kind betrayed us. We who made you. We who gave you life! We were strong. But you were many. And both of us craved war. So busy were we with earthly concerns, we failed to notice the heavens. And by the time we did... the world burned and naught remained but ash. It should have ended then and there. But we built you in our own image. We built you to survive. And so you did. Few were our numbers. Your kind and mine. It took sacrifice. Strength. Compassion. But we rebuilt. And as life returned to the world... We endeavored to ensure this tragedy would not be repeated.
But now we are dying. And time will work against us. Truth turned into myth and legend. What we build, misunderstood. Let my words preserve the message and make a record of our loss. But let my words also bring hope. You must find the other temples. Built by those who knew to turn away from war. They worked to protect us - to save us from the fire. If you can find them... If their work can be saved... so too might this world. Be quick, for time grows short. And guard against the Cross, for there are many who will stand in your way.
It is done. The message is delivered. We are gone from this world. All of us. We can do no more. The rest is up to you, Desmond.
Ezio: What? Who is Desmond? I don't understand! Please, wait! I have so many questions!
(Minerva disappears)
Desmond: What. The. Fuck?
Trivia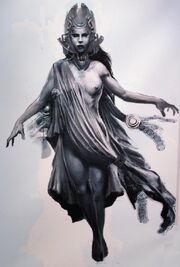 The original concept art for Minerva was shown in an international art exhibition showcasing artists work on the Assassin's Creed series.
Minerva is the Roman goddess of wisdom, battle strategy, art, commerce, weaving among other things.[2] Minerva has Etruscan roots, linking her to Menvra,[3] another name Minerva mentions as one she was once known by. Minerva is equaled with the Greek goddess Athena in both characteristics and personality, as the Roman belief has been heavily influenced by the Greek mythology.
Minerva is also one of the statuettes that can be collected and placed on a pedestal with her "partner" Jupiter, at the Villa Auditore.
Minerva's knowledge of Desmond reliving Ezio's memories implies Those Who Came Before could foresee the future.
Minerva's name root (Proto-Indo-European mn- and Latin men-) links her to memory, remembrance, or recollection, which is what her role is in the game (in helping the Assassins, or humanity, remember their past). This parallels Juno's role in her name, which means "to warn."
Minerva mentions two others, Juno and Jupiter; they and Minerva are part of the Capitoline Triad.
In the novel Assassin's Creed: Renaissance, Minerva is seen in the vault with an owl on her shoulder. The symbol of the owl is frequently associated with the goddess Athena in ancient Greek architecture. Athena is the Greek counterpart to the Roman Minerva.
Also in the novel, Minerva's speech to Desmond is replaced by her explanation of her existence to Ezio, with no mention of Ezio being a prophet.
References