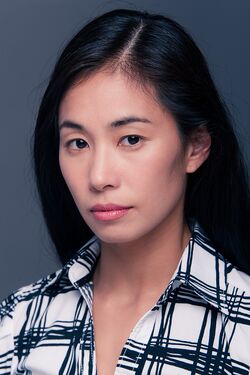 Michelle H. Lin is an American actress and martial artist of Taiwanese descent, who played Lin in the Assassin's Creed movie.
Biography
Born and raised in Massachusetts, Lin studied at Andover High School and Tufts University, where she took an Introduction to Acting course. She also trained in traditional Chinese martial arts at Yang's Martial Arts Association or YMAA. In 2013, Lin began a full-time training program at the YMAA Retreat Center in California, studying under renowned teacher and author, Dr. Yang, Jwing-Ming.[1][2]
At the Retreat Center, Lin trains in meditation, Qigong, Taijiquan, and Shaolin Kung Fu, while also learning how to become a martial arts instructor. In June of 2015, she was invited to audition for the role of a modern-day Assassin in Assassin's Creed; the casting director's assistant had found a video of Lin's performance at the Tiger Claw Elite Championships and showed it to Justin Kurzel, who liked Lin's style.[2]
Lin initially hesitated, in part due to the training program she was part of, but sent in her audition when Dr. Yang gave his blessing. Once she was officially cast, Lin researched how characters in the Assassin's Creed franchise moved and also watched Assassin's Creed: Embers to get a better understanding of her character's ancestor, Shao Jun.[2]
Assassin's Creed works
Assassin's Creed (2016) - Lin
Trivia
Lin has not played any of the Assassin's Creed games herself, but has watched her friends play.
Lin is the first woman to have committed to Dr. Yang's five-year-long training program.
References