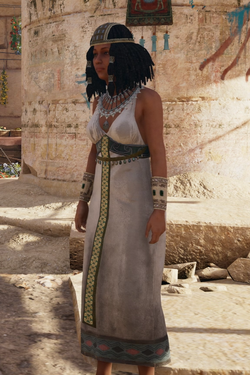 Miane was an Egyptian dream interpreter who worked under Besa in Thebes during the reign of Cleopatra. She was also the elder sister of Tapti.
Biography
Born in a farm estate outside of Thebes, Miane grew up alongside her brother Tapti and had a close relationship with him, such that her younger brother developed an obsession with her. At one point, Miane met Besa, a dream interpreter from Thebes and became his student, moving to the city to work under him. This act caused Tapti to develop a grudge against Besa for "taking" his sister away and think of ways to bring his sister back to him.[1]
Around 38 BCE, Besa was taken away by a group of guards from Luxor after being accused by Tapti for withholding information about the curse plaguing Thebes. Miane enlisted the help of the Medjay Bayek of Siwa, who rescued her teacher and helped him to recover the scrolls stolen by Tapti and later the bandits. Later returning to Besa's shop in the south of Thebes, Miane was informed by Bayek of her brother's death and role in Besa's capture.[1]
Gallery
Appearances
References
Community content is available under
CC-BY-SA
unless otherwise noted.