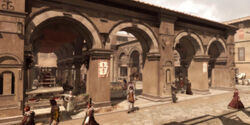 The Mercato Vecchio, or Republic Square, was a marketplace in Florence during the Renaissance.
History
The center of Florentine business, the Mercato Vecchio served all of the shopping needs of the city. To quote Antonio Pucci, a 14th-century Florentine poet: "Physicians dwelt around for every ill, and here were linen cloths, and flax merchants, pork vendors, and apothecaries."[1]
The Mercato was first established in Roman times, as the city of the Forum, and it was only in 1030 that the landmark was first documented as a marketplace. Staple foods from the countryside, like grain, were the most popular goods sold, followed by wool.[1]
The landmark was also displayed in the virtual training map of Florence, which was used by Abstergo Industries to train the recruits in the first[2] and second stage of the Animi Training Program.[3]
Trivia
A glyph could be found on the Mercato.
Mercato Vecchio is Italian for "The Old Market", from mercato, "market" and vecchio, "old".
Appearances
References
Community content is available under
CC-BY-SA
unless otherwise noted.