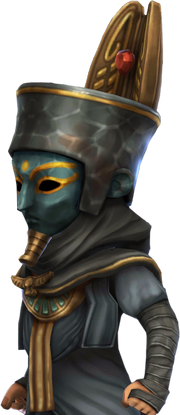 Menkhtu (died 46 BCE) was a priest who served under the Oracle of Amun Medunamun during the 1st century BCE.
After Medunamun's death at the hands of the Medjay Bayek of Siwa,[1] Menkhtu took on Medunamun's mantle of The Ibis, calling himself as The Ibis Reborn. Posing as Medunamun, he formed a sect from the remnants of the Order of the Ancients in Egypt and attempted to gain control.[2]
In 46 BCE, Menkhtu's acts caught the attention of the Hidden Ones, a group of Proto-Assassins founded by Bayek, who sought to uncover his real identity.[2]
Gallery
Appearances
References
Community content is available under
CC-BY-SA
unless otherwise noted.