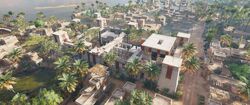 The Memphites Barracks was a military garrison situated in Memphis during the 1st century BCE.
In 48 BCE, the Medjay Bayek of Siwa infiltrated the garrison, having learned of a plot by the Ptolemies to poison Lady Taimhotep, the wife of the High Priest of Ptah, Pasherenptah, via the cakes of the baker Teta. Infiltrating the garrison, Bayek discovered the caches of cakes and destroyed them before they were transferred to the Great Temple.[1]
Appearances
References
Community content is available under
CC-BY-SA
unless otherwise noted.