New Pokemon Games - The Loop
Play Sound
This article is about the Animus mod. You may be looking for the Medjay.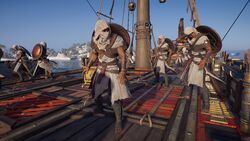 The Medjays were Animus mod avatars available for use by Layla Hassan within the Animus HR-8.5 simulation of Kassandra's genetic memories.
Based on the Medjay, an elite force of the ancient Egypt, these avatars could be used as crew aboard the Adrestia. Dressed in white robes and hoods, with leather bracers, boots, collar, and shoulder guards, the Medjays also bore the emblem of their order, the Medjay badge. The Eye, an Egyptian symbol of protection which graced the badge was also painted in red on the round shields the Medjays bore.[1]
Gallery
Appearances
References