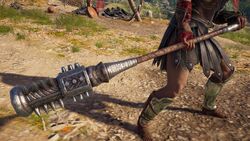 The Meatgrinder was a mace used in 5th century BCE Greece.
Despite its name, the mace was used rather for grinding up flesh on the battle field instead of for eating. Still, it was commonly sold by blacksmiths during the Peloponnesian War.[1]
Weapon statistics
Rarity
DPS (Lvl 99)
Default Engravings
Availability
Common
7113
(Randomised)
Blacksmith, Loot
Rare
7469
Epic
7829
Description
Despite its name, it's not wise to use this on a meat you're preparing.
Behind the scenes
The Meatgrinder, a weapon in Assassin's Creed: Odyssey, as a number of other similar weapons in the same game, including the Argos Priest Mace. These are both the recycled model of the Skull-Breaker, a weapon in Assassin's Creed: Origins.
Gallery
Appearances
References
Community content is available under
CC-BY-SA
unless otherwise noted.