Raise a Floppa - The Loop
Play Sound
Man of the People was a virtual representation of one of Ezio Auditore's genetic memories, relived by Desmond Miles in 2012 through the Animus 2.01.
Description
Ezio Auditore arrived at the Tiber Island Hideout where he found La Volpe and Caterina Sforza. Niccolò Machiavelli then arrived and Ezio told them all about the events that took place at the Castel Sant'Angelo. Ezio, along with Machiavelli, then left the hideout, and began to walk the streets of Rome. Ezio proposed that they recruit the enemies of the state into the Assassin Brotherhood, stating that they would arm those who had been disarmed by the Borgia. Machiavelli finally relented, telling Ezio to go and recruit their first novices.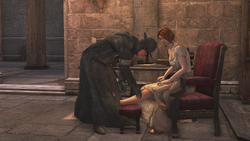 Dialogue
Ezio entered the Assassins Guild on Tiber Island. Caterina was being tended to by a doctor.
Caterina: Ezio.
Ezio: Where is Machiavelli?
Caterina: I could not find him.
La Volpe walked over to join them.
La Volpe: I brought the Contessa (Countess) here.
Machiavelli suddenly appeared and joined them.
Machiavelli: Caterina.
La Volpe: Care to tell us where you have been?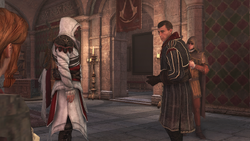 Ezio: Cesare rode off before I could get close to him and Rodrigo was somewhere else entirely.
Machiavelli: That is odd. Rodrigo is usually at the Castello.
La Volpe: Very odd indeed.
Machiavelli: What a waste. No offense.
Caterina: None taken.
Ezio: With Cesare gone to Urbino, we must build our forces.
Machiavelli: I thought we intended to strike now?
Caterina: Impossible. Cesare commands a massive army in Romagna. You would never reach him.
Ezio: I say we work here. In Roma. Erode the Borgia's influence while restoring our own. And in fact, I want to begin right now. Volpe, bring Claudia and Bartolomeo here. Machiavelli, meet me outside.
Ezio turned to walk out of the Guild and passed the doctor.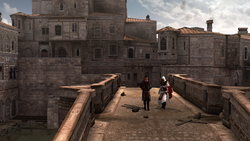 Outside, Ezio and Machiavelli walked together crossing a bridge over the Tiber River.
Ezio: Look. The Borgia rob everything from the people to maintain power.
Machiavelli: What do you intend to do?
Ezio: We will recruit them to our cause.
Machiavelli: You can not be serious.
Ezio: To win this war, Machiavelli, we need loyal soldiers. By recruiting enemies of the state, we arm those who have been disarmed by the Borgia.
Machiavelli: Go then. Recruit our first novices.
Ezio walked off into the streets to find citizens in need, who were being troubled by the Borgia. He fought with the citizens and together they defeated the Borgia.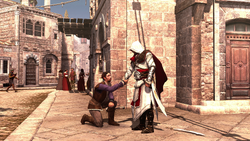 Ezio: The Liberation of Roma has begun. If you choose to flee, do so now, but if you choose to fight, stand with me against the Borgia.
Man: I am tired of hiding in the shadows. I will join you.
Ezio: Then seek Niccolò Machiavelli on Isola Tiberina (Tiber Island) and we will make you one of us. Their lies will no longer mask your truth.
Outcome
Ezio recruited the first of the novices to the Assassins' cause. More citizens could now be recruited throughout Rome in the same way.
Gallery
References