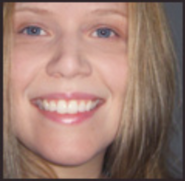 Magdalena Dadela, also known by the alias of Intervain, is a Senior Character Artist working at Ubisoft Toronto, and is best known for her work on the Assassin's Creed series. Her areas of specialty are character modeling, texturing and visual development (sculpting).
Biography
Back in 2004, after two years of doctoral studies in English Literature at the Jagiellonian University in Poland and one viewing of Pixar's Finding Nemo, Dadela decided to leave academia and pursue a career in 3D animation and visual effects. Dadela entered a one year intensive course at Vancouver Film School (2005–2006) and never looked back.
After graduating, Dadela first worked briefly in Dundee as a Character Artist for Real Time Worlds, before moving to Montreal to work for Ubisoft's cinematic studio. For the next four and a half years, she also worked for Ubisoft Digital Arts and Ubisoft's games studio on titles such as: Assassin's Creed, Far Cry 2, Assassin's Creed: Lineage, Assassin's Creed: Revelations, Predators (movie), La Horde (movie), and many other projects.
In July 2011, Dadela spent six months in the Amsterdam area of the Netherlands, where she worked with Guerrilla Games, a division of Sony Computer Entertainment Europe, as a Senior Character Artist, until the December of that same year.
Until 2014, Dadela was employed as a Senior Character Artist at Ubisoft's newest studio in Toronto, Canada. Since October 2014, she is employed by Industrial Light & Magic, working in the Vancouver branch.
Games credited
Educational background
Uniwersytet Jagielloński w Krakowie (1996–2002) - Master of Arts, English.

Master's Studies in English Literature and Language, and two years of further Doctoral Studies.

Szkoła Główna Handlowa w Warszawie (2000–2001) - Economics.
Collegium Civitas (2001–2002) - Diplomacy
Vancouver Film School (2005–2006) - Diploma in 3D Animation and Visual Effects.
Trivia
Dadela spent a brief time as a teacher, before deciding to pursue an arts career.
Gallery
References
Community content is available under
CC-BY-SA
unless otherwise noted.