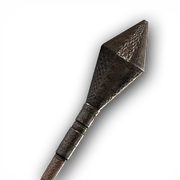 The Mace of Chalkis was a mace forged in the city of Chalkis on the Greek island of Euboea.
During the Peloponnesian War, the mas was rewarded to the Spartan misthios Kassandra after she helped the slave Agapios obtain clues about the bandit group The Dagger and its leader, the Kingfisher.[1]
Weapon statistics
Rarity
DPS (Lvl 99)
Default Engravings
Availability
Rare
7469
+% Warrior Damage
+% Damage with Heavy Blunt Weapons
Complete Sharp Tongue
Description
In Chalkis, keep your purse close and your mace closer.
Behind the scenes
The Mace of Chalkis, a weapon in Assassin's Creed: Odyssey, shares the same model as the commonly found Wooden Mace, another weapon in the same game. These both recycle the model of the Boredom Bane and the Diamond Exchange, weapons in Assassin's Creed: Origins.
The description of the Mace of Chalkis references the idiom "keep your friends close, and your enemies closer."
Appearances
References
Community content is available under
CC-BY-SA
unless otherwise noted.