Lost Legacy was a virtual representation of one of Ezio Auditore da Firenze's genetic memories, relived by Desmond Miles in 2012 through the Animus, in which a memory from Altaïr Ibn-La'Ahad was viewed.
Description
Altaïr Ibn-La'Ahad and his son, Darim took the final preparations for the moving of the Assassin Order to a new location. Altaïr, however, decided to remain in Masyaf, advising his son to live a peaceful life.
Dialogue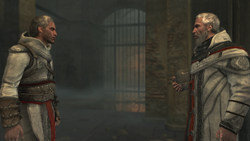 Darim departed and Altaïr entered his vault. While preparing everything in the vault, Altaïr heard voices from his past.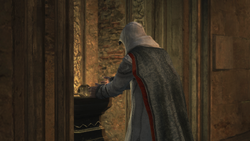 Altaïr locked the Apple away and took his seat.
Outcome
Altaïr stored the Apple in the vault and sat down to rest afterwards, accepting death's embrace.
Trivia
Gallery
References