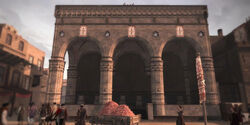 The Loggia dei Lanzi is a building on the Piazza della Signoria, in central Florence.
Built by architects Benci de Cione and Francesco Talenti between 1376 and 1382, the building was used to house public assemblies and provide a covering for the swearing-in of the members of the Signoria, the rulers of Florence.[1] The construction was in stark contrast with the architecture of the Palazza Vecchio. It is considered an open-air sculpture gallery of antique and Renaissance art.[2] Upon the rise of the ruling House of Medici, a private balcony was added to ensure the citizenry were aware of the power of their new rulers.[1][2]
Gallery
Appearances
References
Community content is available under
CC-BY-SA
unless otherwise noted.