I wanted to ask you something. Which is… what's your name?


The title of this article is conjecture. Although the subject of this article is canon, no official name for it has been given.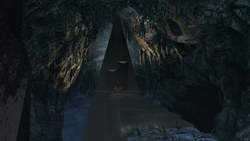 The Lisbon Temple was a Seismic Temple located beneath the Carmo Convent in Lisbon, Portugal.
On 1 November 1755, the Assassin Shay Cormac arrived at the Carmo Convent to explore the Temple on orders of his Mentor, Achilles Davenport. After opening the entrance to the Temple, Cormac tried to take the Piece of Eden housed inside, but unknowingly activated the Temple's defense mechanism.
The Temple then created a seismic event that almost completely destroyed Lisbon and the surrounding areas, killing thousands of civilians. Shay was able to survive the earthquake by navigating through the city and escaping to the Assassins' ship.
Gallery
Appearances
References
Community content is available under
CC-BY-SA
unless otherwise noted.