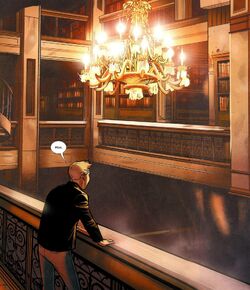 The library of Ivan the Terrible was a literary compendium hidden underneath the Bolshoi Theatre in Moscow, Russia. Existing well before the theatre's construction, the library was first used as a storage for Byzantine artifacts collected by Ivan the Terrible. It also functioned as a repository for generations of Assassin leaders; including Ezio Auditore da Firenze, whose personal codex was retained there.
History
By 2002, two years after the Templars initiated the "Great Purge", the Assassins continued to protect the library's secrets. During their raids on Assassin hideouts, the Templars managed to find out about the library's existence and sent Daniel Cross to infiltrate it in 2002.
By using an opening mechanism hidden behind a portrait of Ivan Ivanovich in the sewers running beneath the Bolshoi Theatre, Daniel infiltrated the library and was greeted by an Assassin sentry, who assumed Daniel was his replacement, unaware to Cross' allegiances. The sentry eagerly pointed Daniel to the Prophet's Codex, where the Templar read out the record of Minerva's speech to Ezio Auditore via his earpiece to Warren Vidic, before Daniel took the codex with him and killed the Assassin sentry.
Appearances
References
Community content is available under
CC-BY-SA
unless otherwise noted.