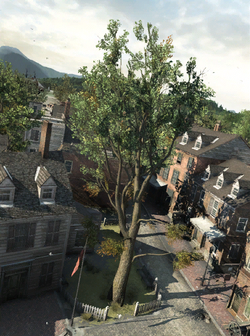 The Liberty Tree was a large elm tree located in Boston during the Colonial era.
History
The tree was planted in Boston, near Boston Common, in 1646 by the Sons of Liberty. Additionally, the first protest over the Stamp Act occurred under this tree in August of 1765. Soon after, a plaque was nailed to the tree hailing it as the "Liberty Tree," and a flag pole was later installed in the tree to summon people to meetings.[1]
During the American Revolution, unpopular figures were hung in effigy from the tree's branches. The Sons of Liberty also used to issue "Summons" to the tree for supposed crimes. This idea eventually spread to other cities, especially New York City. During the siege of Boston in 1775, British soldiers chopped down the tree for firewood.[1]
Trivia
In modern Boston, there is a plaque over the tree's former location, though the tree has never been replaced.
Appearances
References
Community content is available under
CC-BY-SA
unless otherwise noted.