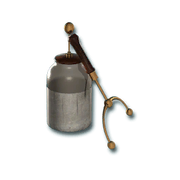 A Leyden jar is an early device for storing power in the form of vitreous and resinous electricity,[1] being a glass jar with metal foil layered on the outside and inside.[2]
History
First invented in the town of Leyden, Netherlands in 1745 by a scientist named Pieter van Musschenbroek, they were a great step forward in understanding electricity, for scientists could create electricity, but had nowhere to store it.[2]
Around 1740 American inventor Benjamin Franklin began his experiments with electricity, using it to create and improve devices such as the capacitor and the Leyden jar. [3] On July 1754, he used a series of Leyden jars, in a system he called a "battery", to power a Precursor box in an experiment for the Colonial Brotherhood of Assassins, causing it to project a holographic map of various Temples across the globe.[1]
During the French Revolution, French scientists began experimenting with electricity's supposed ability to induce flight in humans. Pierre-Simon Laplace knew such a charge would kill the test subject and asked the French Assassin Arno Dorian to sabotage the experiment. To this effect, Laplace gave Arno a Leyden jar with a non-lethal electric charge, instructing him to swap it for the one used in the experiment. Arno was able to sneak into the College of the Four Nations and do so, saving the test subject.[4]
Appearances
References