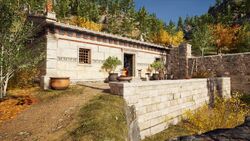 The Lesche of the Knidians was a meeting and dining place located within the Sanctuary of Delphi in Greece.
History
The lesche was decorated with paintings by the 5th century BCE artist Polygnotos commemorating the fall of Troy and the return of the victorious Greek heroes.[1]
During the Peloponnesian War, the building was visited by the Spartan misthios Kassandra. It was also where she spent a good while with Auxesia, a Delphian woman.[2]
Behind the scenes
Lesche (λέσχη) is a Greek word meaning 'place of council or conversation'. Knidos was Greek city located on the coast of Anatolia.
In Assassin's Creed: Odyssey, the "Historical Location" description for this landmark is misidentified and is meant for the Dedication of the Knidians.
The walls of the lesche are covered with the painting painting called "Nekyia" by Polygnotos, rendering Assassin's Creed: Odyssey's depiction of the lesche historically correct. However, said painting can be seen in numerous other locations as well, and pieces of it have been used to decorate various pieces of pottery in the game.
Gallery
Appearances
References
Community content is available under
CC-BY-SA
unless otherwise noted.